For some reason we are supposed to eat raspeballer (komle, klubb, potato ball) on Thursdays. I wonder who came up with that idea..
Since it happens to be Thursday today, I decided to make raspeballer from scratch. I must admit that it is proparbly more than 15 years since I made them from scratch. I have become lazy and just buy them in a dry mix and add water.. But homemade is always best, and it is nice not to forget about the tradition it is to make these popular potato balls. My great grandmothers and grandmothers would have been shocked if they knew that I did not make them from scratch, but I hope they would have been pleased to see my effort today!
It is time to bring back focus to my wonderful "Kokebok". It really have all kinds of recipes in it!!
INGREDIENTS:
1 lb and 10 oz (3/4 kg) raw potatoes (about 4 big ones)
2 boiled, cold potatoes (medium size)
2/3 cup barley flour
1/4 cup regular flour
1 tsp. salt
add more barley flour if the dough is to soft.
And this is how you do it:
Grate the raw potaotes. I tested the grater we sell at www.nordicgalleri.com and www.mollyme.no. Love it, works perfectly! It comes with a catcher and a lid.
Sift the potaoes for a while. You should leave it for at least one hour.
Lightly mash the two boiled, cold potatoes.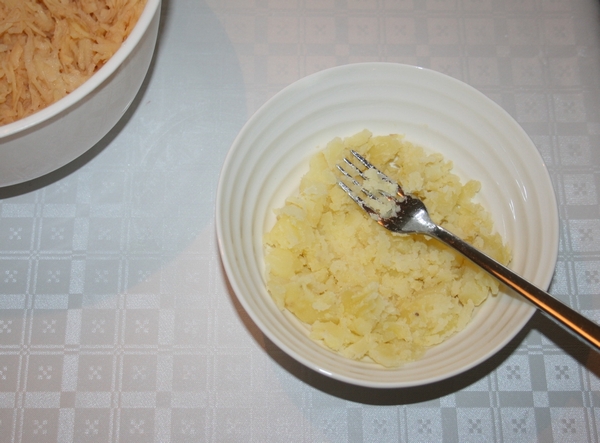 Mix all the ingredients.
Shape them with your hand and a spoon into the right size. Or get a ice creame scoop at Nordic Galleri, I should have brought one with me… could really have used one now..!
Drop them in boiling water added salt. Let them simmer. When the balls have floated up, they need to simmer for about 20-25 minutes.
There is lots of stuff you can enjoy with raspeballer. Something we usually have is mashed rutabaga. It is very easy to make.
Cut up rutabaga.
Let them boil until soft.
Mash them with some butter, salt and pepper.
And a little bacon on top is yummy!
And here it is ready to eat! We like sausages with raspeballer, these ones are not quite the right type, but they have to do….
Notice the nice plate? It is Sophie Conran for Portmeirion white, also sold at Nordic Galleri! www.nordicgalleri.com. And you can get them in Norway, soon to be on www.mollyme.no.
I have to say, they tasted delicious, I shall never again make them any other way than from scratch….!